Les posteurs les plus actifs du mois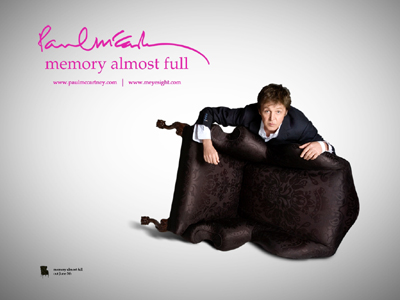 The following is being distributed as selling information for "Memory Almost Full" (Thanks to C&K):
PAUL MCCARTNEY
memory almost full
Memory Almost Full is performed entirely by Paul McCartney [excluding strings]
and produced by Grammy® Award-winner David Kahne (The Strokes, Sublime,
Bruce Springsteen and more).
SPECIAL LAUNCH EVENTS: Special performance events scheduled to take place
in New York, Los Angeles and London. Additional information TBD.
PRESS: Significant national coverage expected from both Television, Print, and
Online outlets. Appearances on national TV shows are anticipated, as well as
interviews/reviews in daily newspapers such as USA Today, NY Times &
LA Times, and music/lifestyle magazines such as Rolling Stone, etc.
RADIO: First single "Ever Present Past."Add date: April 30th. AAA, Mainstream
AC, News Talk, Classic Rock, Beatles Specialty Shows, Classic Hits Radio, Jack FM,
Public Radio. EXTENSIVE RADIO ADVERTISING CAMPAIGN.
RETAIL: High visibility campaigns, price & positioning support and regional listen-
ing events planned.
VIDEO: "Dance Tonight," directed by Michel Gondry and featuring Natalie
Portman. Video servicing to all national outlets with emphasis on VH1 & VH1
Classic. Video will also be serviced to YouTube, Google, Yahoo, and other key
websites for major impact.
NATIONAL CABLE & NATIONAL/LOCAL MARKET BROADCAST TV
ADVERTISING: •Extensive 30:second TV ad campaign to commence Friday June
1st •National Cable outlets will include the following: A&E, BBCA, BRAVO, CNN,
VH1, DISCOVERY, CNN, FOX NEWS, MSNBC, BIOGRAPHY & HISTORY
CHANNEL•Additional advertising will take place on the following Broadcast
programming; either national or Top DMAs: TODAY SHOW, GOOD MORNING
AMERICA, THE VIEW, ELLEN, LIVE WITH REGIS & KELLY, CBS SUNDAY
MORNING.
NATIONAL PRINT ADVERTISING:
USA Today 1/2 Page Fri. June 1 2.1 M
New York Times Full Page Sun. June 3 & 10 1.6 M
Los Angeles Times Full Page Sun. June 3 1.2 M
Chicago Tribune Full Page Sun. June 3 960,000
Rolling Stone Full Page July 12 issue 1.4 M
Wired 1/3 Page July 623,000
As well as... Paste, Harp, Utne Reader & Mother Jones; TRADE: Billboard - False
Cover and Inside Front Cover - June 2 issue; Radio & Records - Cover - June 3 issue
Additional advertising campaign to target Dads and Grads.
NEW MEDIA: Online marketing specialists will secure placement, editorial and
reviews with music, lifestyle and affinity sites; likely 60-80 sites for initial push and
focus, including AOL, Yahoo & VH1.com to name a few. Additional tasks include
MySpace and YouTube content, coverage and management, as well as placement of
extensive banner advertisements throughout the web.
LIFESTYLE MARKETING: Movie Theatres: Movie Tunes: 13,500 screens for
audio, 2,500 screens for video exposure; Cinema Sounds: 13,500 screens for audio,
2,163 screens for video; Landmark: 208 screens in 23 cities; Laemmle Theatres: 88
targeted art-house screens Airlines: American: Aug. in-flight audio feature and
AAtractions; United: Video placement for June or July (TBD) & feature
in Hemispheres; Delta/Northwest: Video placement TBD. Street Teams: 7 week
campaign in 8 markets: NY, LA, CHI, SF, BOS, ATL, PHI & DC; 14" x 22" posters
visible in over 4,000 locations; In store play in over 800 locations.
SELECTIONS:
01. Dance Tonight (2:54)
02. Ever Present Past (2:56)
03. See Your Sunshine (3:19)
04. Only Mama Knows (4:18)
05. You Tell Me (3:16)
06. Mr. Bellamy (3:39)
07. Gratitude (3:18)
08. Vintage Clothes (2:22)
09. That Was Me (2:39)
10. Feet In The Clouds (3:24)
11. House Of Wax (4:59)
12. The End Of The End (2:53)
13. Nod Your Head (1:57)
Notes:
Street Date: 6.5.07Artist/Title Paul McCartney/Memory Almost Full Order Due Date: 5.16.07
888072303584888072303485Genre: Pop Box Lot: 30
CD-Sel. HMCD-30348
Price Code: C18
Standard - Super Jewel Deluxe - Digipak
CD-Sel.HMCD2-30358
Price Code: C24
DELUXE LIMITED
EDITION
Additional Bonus Disc Includes:
• Audio commentary by
McCartney describing the music
• 3 Bonus tracks
• Deluxe Digipak
deluxe digipack !cool
merci bien beaucoup
Ils ont l'air d'avoir prévu une vraie promo cette fois !!

---
Permission de ce forum:
Vous
ne pouvez pas
répondre aux sujets dans ce forum